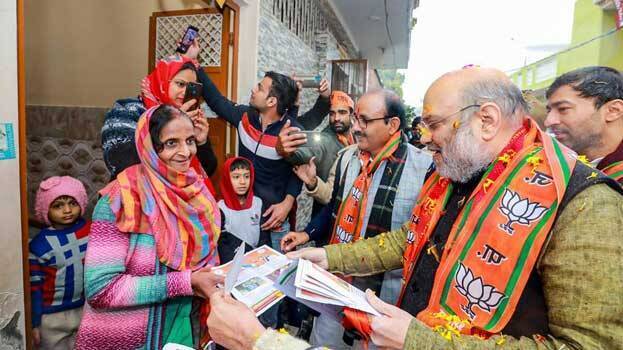 LUCKNOW: Union Home Minister Amit Shah began his campaign for legislative assembly polls from Kairana in Uttar Pradesh, where the alleged exodus of Hindu families took place in 2017. He arrived at Kairana to seek vote for BJP's Kairana candidate Mriganka Singh. Amit Shah visited the affected families, who earlier had to leave the northern states in threat of criminals.
Slogans of 'Jai Shri Ram' and 'Bharat Mata Ki Jai' were raised by his followers as Mr Shah embarked on a door-to-door campaign handing out pamphlets that listed the achievements of BJP government. It was BJP's first political programme in the state since the assembly poll dates were announced by the election commission. Soon after the programme, accusations of violating Covid protocols were in the air. The opposition also came out in criticism of the district administration.
BJP's selection of candidates is a clear indicator of the party's election plans for the state. Mriganka Singh is the eldest daughter of Hukum Singh, former BJP MP from Kairana, who exodus claim had landed Kairana into the national map of the country. BJP had alleged that Hindu families were forced to migrate from the state, during the Samajwadi Party rule. The campaign led by Mr Shah is a clear signal that BJP is planning to weaponize the incident once again. The BJP claims that law and order in the state has improved under the Yogi Adityanath government.