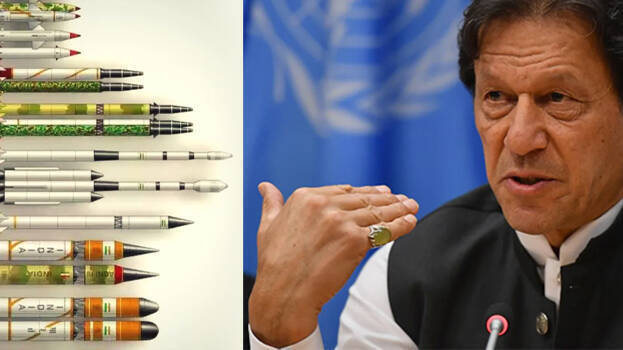 NEW DELHI: According to a media report, Pakistan had planned a retaliatory strike after India's accidental missile firing into its territory. Pakistan had prepared to launch a similar missile to strike India but held back because an initial assessment indicated something was amiss, reported Bloomberg Media. Defence Minister Rajnath Singh had given explanation of the accidental missile firing in the parliament, last day. The report of the Pakistan's move came after the minister's statement. The Indian missile had landed in Pakistan on March 9.
The defense minister told the Parliament on Tuesday that it was unfortunate that missiles were fired at Pakistan and that the government was taking the matter seriously."During routine maintenance and inspection, a missile was accidentally released at around 7 pm. It was later learnt that the missile had landed inside the territory of Pakistan. While this incident is regretted, we are relieved that nobody was hurt due to the accident. I would also like to state that a review of the Standard Operating Procedures for operations, maintenance and inspections is being conducted in the wake of this incident. We attach the highest priority to the safety and security of our weapon systems. If any shortcoming is found, the same would be immediately rectified", the minister said in the parliament. The government has taken serious note of the incident, and a formal high-level inquiry has been ordered which will determine the exact cause of the incident, he added.
The missile had crossed boundaries and landed in Mian Channu in the Khanewal district of Pakistan. Although no casualties were reported, Pakistan had alleged that the missile had created huge damage. The US had also supported India's stand and said, "We have no indication as you also heard from our Indian partners that this incident was anything other than an accident." With this, Pakistan was isolated at the international level as well. Pakistan is well aware that any retaliation can have consequences. Moreover, Pakistan, which is going through economic crises, does not have the weapon capability to counter India. According to the Bloomberg report, the Indian Air Force fired the BrahMos medium-range cruise missile on March 9 from the garrison town of Ambala, about 200 kilometers (125 miles) north of the capital New Delhi. However, India has not clarified about the type of missile launched.