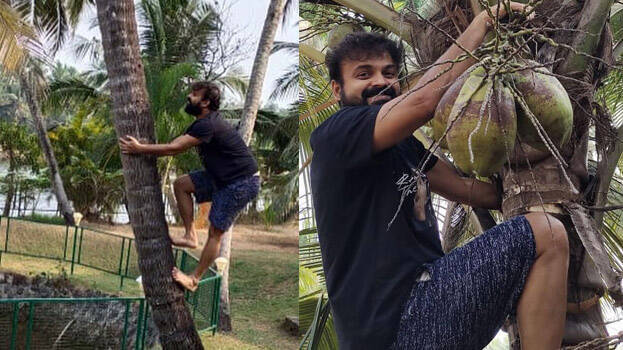 Kunchacko Boban is one of the popular actors in Malayalam cinema. The actor comes from a family with movie tradition and became a youth icon of the Malayalees through his movies in the late 90s. Kunchacko, who later left the film industry, grew beyond his chocolate image and has become a star who handles a variety of characters and films today. He is also an active presence on social media. On Friday he shared an interesting thing on Facebook. The post is not at all related to the cinema but about an adventure Boban did during his free time. The actor wrote on Facebook that when he felt like drinking a shake, he climbed a coconut tree to take fresh coconut for it. Chackochan says desires should not be postponed and should be done as soon as possible. The actor has also shared pictures of it.
Meanwhile, Kunchacko Boban's latest release 'Pada' is receiving a good response from theatres. Kamal KM is the director of the 1996 film about the struggle led by Ayyankalippada. The film also stars Vinayakan, Joju George and Dileesh Pothen.
Chackochan's upcoming films include his Tamil debut film Randagam, Pakalum Pathiravu, Ariyippu, 'Nna, Thaan Case Kodu', Enthada Saji, Padmini, Aaram Pathira-a sequel to the hit film Anjaam Pathira, Grrr, and Mariyam Tailors. The first look of the movie 'Nna, Thaan Case Kodu' was released last day.