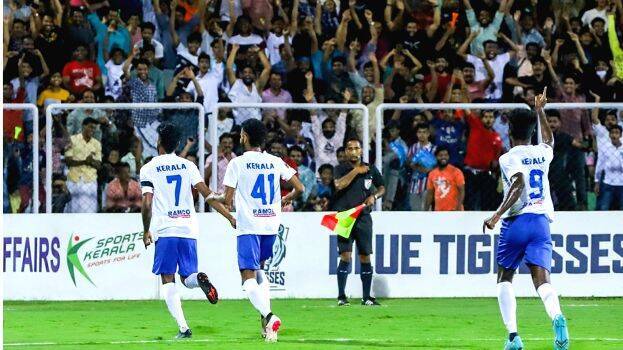 MALAPPURAM: The timing of the semi-final matches of the Santosh Trophy Football Championship has been changed. The matches were scheduled to be held at 8 pm but were postponed to 8.30 pm due to special demand from the fans. Due to the fasting period, the match time was changed to 8.30 for the fans to reach the stadium after the opening of the fast. Kerala will take on Karnataka in the first semi-final on April 28. Manipur will take on West Bengal in the second semi-final on March 29. The two semi-finals and the final will be played at Manjeri Payyanad Stadium. The final will take place on May 2.
There will be an increase in ticket prices for the semis and finals. A gallery ticket of Rs 100 per semi will cost Rs 150 and a final ticket for Rs 200. The price of a Rs 250 chair ticket has been increased to Rs 300 for the semi and Rs 400 for the final. The current amount for VIP chair tickets will remain the same. Offline counter ticket sales will start at 4.30 pm on the day of the competition. Ticket distribution is being arranged earlier to manage crowd. Tickets are available online for those who cannot afford to buy offline tickets.
Online ticket distribution will start today. Tickets are distributed online through the website https://santoshtrophy.com/. Online ticket distribution will end at 3 p.m. Those who have bought season tickets at Manjeri Payyanad Stadium do not need to buy special tickets. They can watch the semi and final matches with this season ticket. Visitors must enter the stadium before 7.30 p.m. The gates of the stadium will be closed after 7.30 p.m.