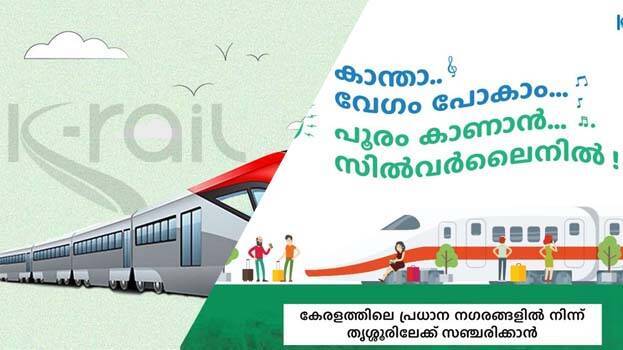 THIRUVANANTHAPURAM: As Kerala gears up for another 'Thrissur Pooram', K-Rail has shared a poster claiming that one can reach Thrissur much faster on K-Rail. The caption is 'Kanta, vegam pokam...Pooram kanan Silverlinil' which means 'Dear, let's go fast on Silverline and watch Pooram'.
The advertisement claims that it takes 1 hour and 56 minutes to reach Thrissur from Thiruvananthapuram. It also claims that it takes half an hour from Kochi, 44 minutes from Kozhikode and 1 hour and 58 minutes from Kasaragod to reach Thrissur.
Thiruvananthapuram-Thrissur can be reached for Rs 715. The fare from Kochi to Thrissur is Rs 176. The fare from Kozhikode to Thrissur is Rs 269 and Rs 742 from Kasaragod.

At the same time, many have come forward with criticism below the ad.
Some comments ask whether we saw Pooram all these years with K-Rail. 'We have Indian Railways will not allow Kerala to be destroyed', 'Let the Vande Bharat Express come and see' are some of the other comments.