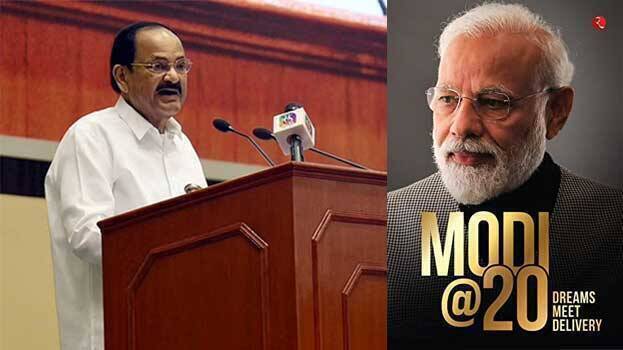 NEW DELHI: Prime Minister Narendra Modi is a phenomenon, said Vice President M Venkaiah Naidu, while releasing the book 'Modi @20: Dreams Meeting Reality'. Modi is a leader who demonstrated to the world that dreams can indeed be realized, he added.
"Incisive analysis and cogent presentation. The authors have masterfully traced the contours of an iconic leader's fascinating journey of 20 years", said the Vice President.
The book is a compilation of the last 20 years of Narendra Modi's political life. It compiles the 20 years' political career of Modi from being the Gujarat Chief Minister to becoming the country's Prime Minister. The 458-page book includes information compiled by eminent personalities from various fields and is published by Rupa Publications.
"The Prime Minister is a phenomenon at the national level. The book presents different facets of the distinct thought process, the pioneering, pro-active approach and the quintessential, transformational leadership style that Narendra Modi has come to be so closely identified with," added the Vice President.
The book has been written by around 22 eminent writers including Home Minister Amit Shah, External Affairs Minister S Jaishankar, late singer Lata Mangeshkar, National Security Advisor Ajit Doval, badminton player P V Sindhu and Bollywood actor Anupam Kher.