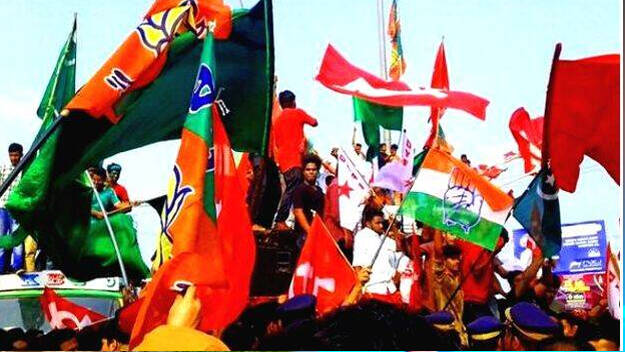 THIRUVANANTHAPURAM: The LDF has claimed the upper hand in the by-elections to the local bodies in the state. The LDF won 24 seats while the UDF won 12 and the NDA claimed six seats. The by-polls were held in 42 local government wards of the state. The by-polls were held in 2 corporation, 7 municipality, 2 block panchayat and 31 gram panchayat wards in 12 districts except Kasaragod and Wayanad.
The BJP has won two sitting seats of LDF in the Tripunithura municipality. The BJP victory came in Ilamanathoppil and Pisharikovil wards. With this, the BJP won 17 seats in the corporation council. Seat status of the LDF decreased from 23 to 21. The UDF won in Myloor in Varappetti panchayath and Athani town wards in Nedumbassery panchayath. In Kunnathunadu panchayath, LDF won in Vembilly ward.
The BJP retained the Ernakulam south ward in Kochi Corporation. The Kakkad ward in Kannur Corporation was won by the UDF.
In Idukki district, the Left won two by-elections in three grama panchayat wards and the BJP won one. The Congress suffered a heavy blow. The Congress, which came second in two places, slipped down to third in one place.
UDF won in Poovar and Kallara panchayats in Thiruvananthapuram. The LDF won in Athiyannur and Navaikkulam. The UDF won in the Chittoor ward in Konni in Pathanamthitta. The LDF won the fifth ward of Angadi panchayat in Ranni, which was the sitting seat of Congress.
In Kollam district, the LDF won in Sangamam ward of Sooranad North panchayat, Aryankavu Kaluthuruthy, Klappila in Veliyam and Nandirikkal in Perinadu panchayat. The UDF won in Mulayarachal in Velinelloor panchayat.
Kakkad ward in Kannur Corporation was retained by the UDF and the Neerveli ward in Mangattidam panchayath by the BJP. The CPM retained Muthiyalam in Payyanur municipality, Thekkekunnumbra in Muzhappilangad panchayath and Pullanji in Kurumathur.
The LDF won the 14th Division Varikuzhizhazham in Koduvally in Kozhikode municipality. Koodalloor ward in Pallasana in Palakkad and Kotakkunnu ward in Cherpulassery municipality was won by the LDF. The UDF won in the third ward of Mannancherry panchayat in Alappuzha