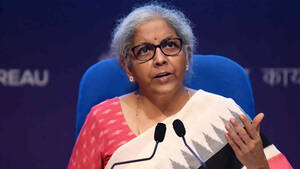 ​​​​NEW DELHI: To curb inflation and soaring prices in the country, the Centre has reduced taxes on petrol and diesel, among other commodities. The prices of essential commodities in the country had risen sharply. Union Finance Minister Nirmala Sitharaman has announced the tax cuts today. These are the products whose taxes have been reduced in the country.
Fuel tax
The tax has been reduced by Rs 8 for petrol and Rs 6 for diesel. With this, petrol prices in the country will come down by Rs 9.50 per litre and diesel by Rs 8 per litre. Fuel prices have come down significantly as the Centre has reduced excise duty.
Fertilizers and pesticides
In the agricultural sector, the prices of fertilizers and pesticides are rising, so the Centre will increase the subsidy given to them. At present, the Centre provides Rs 1.05 lakh crore for subsidies on fertilizers and pesticides. In addition, an additional Rs 1 lakh crore will be provided as subsidy.
Plastic products
The government has also decided to reduce custom duties on imports of raw materials and related items for plastic products. The Finance Minister said that the reduction in import duty was due to India's heavy reliance on imports in this field.
Iron - Steel
Similar to that of plastic products, customs duty on for iron and steel and its intermediaries will also be reduced. Tax exemptions have also been announced for exports in this sector.
Cement
She said that the Centre would take steps to ensure availability of cement in the construction sector and to reduce cement prices. The Minister said that steps would be taken to facilitate the transport of goods in the cement sector.