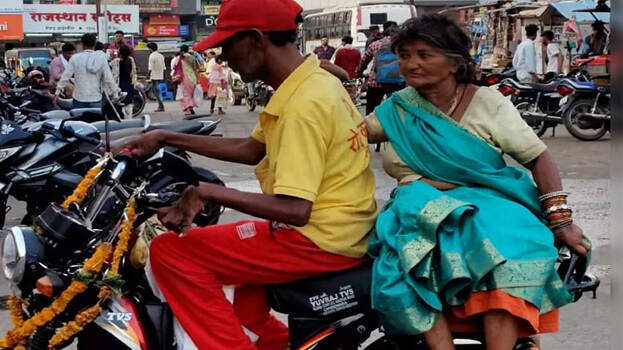 BHOPAL: The incident of a beggar buying a moped for his wife with the money he got from begging is going viral on the social media. Santhosh Sahu from Chhindwara in Madhya Pradesh bought a moped worth Rs 90,000 for his wife. His wife Munni Sahu used to beg for alms pushing Sahu, who is physically disabled and sitting on a tricycle. Seeing his wife's suffering, he decided to buy a moped for her. He bought the moped with the money he saved for years.
Sahu is not able to move his legs and so his wife used to push the tricycle carrying him. His wife Munni also used to beg with him. They faced a lot of difficulties while begging on bad roads and during rainy season. Munni used to fall ill and had backache as she had to push his tricycle the whole day. This made him buy the scooter.
The couple earned Rs 90,000 after begging in bus stands, temples and mosques. Now they go in their moped to beg. Now they have to beg for the daily expenses and to fill petrol.