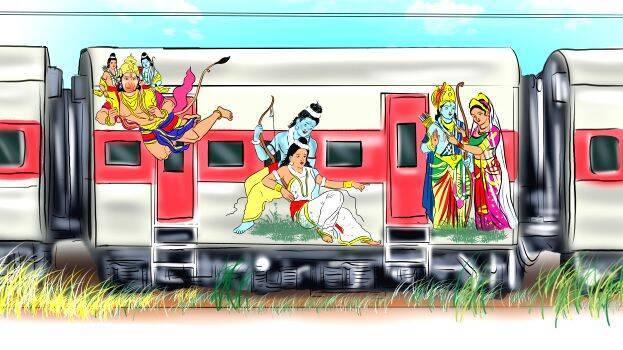 NEW DELHI: The IRCTC has announced an 18-day pilgrimage package through the ancient sites associated with the Ramayana. The IRCTC 'Shri Ramayana Yatra' train is part of the Central Government's Swadesh Darshan scheme.
This is the first tourist train from India to Nepal. The train, which will depart from Delhi Safdarjung Railway Station on June 21, can carry up to 600 passengers. In addition to the 11 third AC bogies, there will be two coaches for luggage and pantry. There is also an infotainment facility available and vegetarian food will be provided. The rate is Rs 62,370 per person including food, hotel and guide expenses.
The train will run on the Ramayan circuit identified under Swadesh Darshan scheme covering prominent places that include Ayodhya, Janakpur (Nepal), Sitamarhi, Buxar, Varanasi, Prayagraj, Shringverpur, Chitrakoot, Nashik, Hampi, Rameshwaram, Kanchipuram and Bhadrachalam.
The train will cover a total distance of 8000 km. The first stop of the train from Delhi is at Ayodhya. After visiting the Ram Janmabhoomi Temple, Hanuman Temple and the Bharat Mandir in Nandigram, one goes to Buxar. There you can visit the ashram of Maharshi Vishwamitra and bathe in the Ganges at Ramarekha Ghat.
Apart from Delhi, passengers can board from Aligarh, Tundla, Kanpur and Lucknow stations. Ticket rate remains the same.
So far 285 people have booked tickets. Most are from Maharashtra (61) and UP (55). Five per cent discount has been announced for the first 300 bookings. There is also a facility to pay in installments.