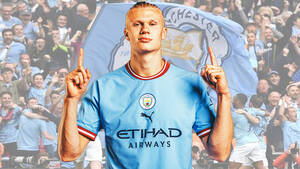 MANCHESTER: Norwegian player Erling Haaland has signed a contract with Premier League champions Manchester City. 21-year old Haaland has been brought to the club on a five-year contract after agreeing to a transfer with German club Borussia Dortmund.
Although no official financial details have been released, German media reported that the transfer costs 300 million euros(almost Rs 2445 crores 85 lakhs). This includes his salary, agent fees and bonuses.Haaland joined German club Dortmund from Austrian side Salzburg two years ago. He scored 62 goals from 67 matches for Dortmund.
Manchester City lacked a striker after Sergio Aguero so they have brought Haaland to the team. From 2000 to 2003, Holland's father Alfie Haaland also played for City.