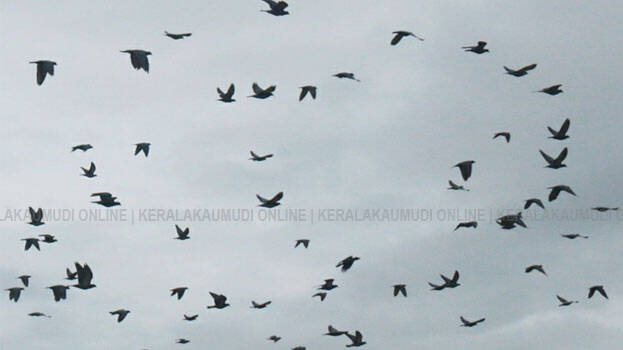 THIRUVANATHAPURAM: The Airport Authority of India (AAI) has warned of high chances of bird hits in the Thiruvananthapuram airport. Contractors, by the name of 'Bird Chasers' are appointed to chase the birds away by firing gunshots during the arrival of planes. However, the birds have become accustomed to the gunshots and are not frightened anymore. AAI has also warned of the disasters that could happen if the illegal slaughterhouses nearby the airport, attracting birds, are not brought under control. The warning was issued by a top official at the last meeting convened by the Airport Environmental Committee presided by Transport Secretary K R Jyothilal.
Bird hits are highly dangerous not only for the flight passengers, but also for those living in densely populated areas. Flock of birds are spotted at various airports across the country, but is very dense in the capital city, said the official. In the wake of the warning, the Adani Group has written to the government urging the immediate removal of wastes from areas near the airport.
Although, occasional collisions with small birds occur, these are not reported by pilots. Only one bird hit is permissible for every 10,000 services. However, around 10 bird hits are reported every month. If there is a bird hit, then it will be considered as an accident. Bird hits should be reported to the Civil Aviation Regional Air Safety Office in Chennai, within two days. A copy of the report should be submitted to the Civil Aviation Director. Afterwards, a special report should be submitted to the aviation safety department every month. There will also be an investigation by the Civil Aviation Director. Bird hits are generally ignored by pilots in order to escape from the complex formalities and procedures. Bird hits become official only when reported by foreign pilots. Last day, a Patna-Delhi flight caught fire due to a bird hit.
Waste disposal
Heaps of wastes are dumped in and around the areas adjoining the airport walls. This attracts birds such as eagles, crows, strokes and owls, to the area resulting in bird hits. If a bird hits a plane, the engine will be damaged and the flight could lose control. The waste dumping is generally seen during early mornings; a time when most airlines are operated.
Violation of law
According to the aircraft rule, there should be no slaughterhouses or butcher houses within 10 km of an airport. A case can be registered against those who violate the law.
If a bird hits a plane, then the engine will be damaged. The plane could catch fire. The digital control system could also get damaged.
In 2019, 44 bird hits had occurred, but only 28 were reported.