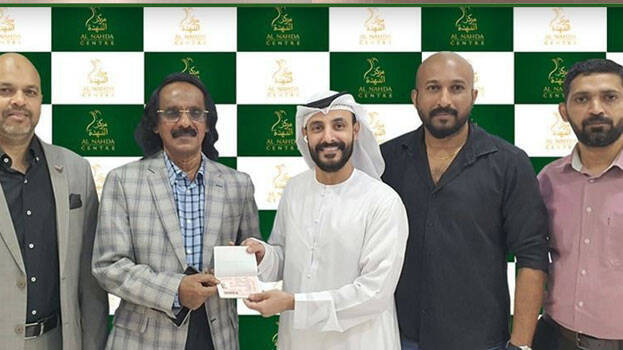 DUBAI: Famous film producer, director and lyricist East Coast Vijayan has obtained UAE's Golden Visa. He received the visa in Dubai. East Coast Vijayan is an artist who has made hits in video albums, mappila songs, devotional songs to movie songs. Of these, video albums like adhyamayi, ormakkayi, ninakkayi, orikkal nee paranju, swantham, Midad and jadeed were a hit.
Vijayan started his career in 1998 with the production of the music album Ninakayi under the banner of East Coast. The songs written by Vijayan himself with music by Balabhaskar, became hugely popular. Following that, he produced six albums like adhyamayi, ormakkayi, swantham, iniennum and ennannu.
Ennannum was released in Tamil, Telugu, Kannada and Hindi languages. Apart from romantic albums, Vijayan has written more than ten ghazals. The songs on the ghazal album orikkal nee paranju are notable.
He made his directorial debut in 2008 with Jayaram and Sada in the lead roles in the film titled Novel. Vijayan directed two films Mohabbat in 2011 and Chila Newgen Nattuvisheshangal in 2019. Vijayan himself wrote the screenplay and dialogues for Novel and Mohabath. He was the producer of the super hit film My Boss with Dileep in the lead role and directed by Jeethu Joseph in 2012. He was also the producer of the films Novel, Mohabbat, Jilebi and Chila NewGen Nattuvisheshangal. Vijayan has written over fifty songs for albums and movies. Apart from this he has directed many stage shows in Kerala and Gulf countries.