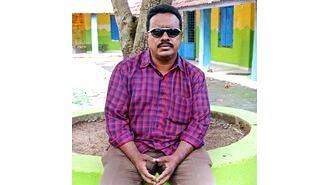 THIRUVANANTHAPURAM: K R Chandrababu, a native of Pothencode, has been inspiring the entire society by shedding light on his own life and other blind people, through his struggles against blindness. Helen Keller, the woman who won over blindness through her determination, is 50-year-old Chandrababu's role model.
Although, Chandrababu was blind since birth, he was able to see a little bit through his left eye. But, that light was lost in his third grade. From then onwards, he stayed home for five years. Later, he began learning Mridangam. When he was 14-years-old, he joined the blind school in Thiruvananthapuram. As the secretary at the blind school, he had even led students' protests. The protest had prompted the government to separate the schools for the blind and the deaf.
Chandrababu scored the highest marks in 1992 SSLC exams among blind students. Later, he studied pre-degree at S N College, Chempazhanthy and joined for BA Malayalam in University College. During his final year, he got posted as a teacher. He was one of the first three visually impaired teachers in public schools in 1998. While in job, he passed graduation and then secured PG through correspondence, with a score of 54 per cent. Currently, he serves as the Malayalam teacher in UP category at Vanchiyoor Government School. He had always dreamt of becoming a college professor. He had even passed NET, but could not get the job due to age limit. However, there began a big legal battle.
The Supreme Court has ruled that 50% marks are sufficient, in a postgraduate degree, for the visually impaired in order to teach in a college. The state government had delayed the implementation of the order. The legal battle against it continued for a very long time. Finally, a favourable order came from the government in 2018. Even if it did not benefit Chandrababu, it will definitely be beneficial for others.