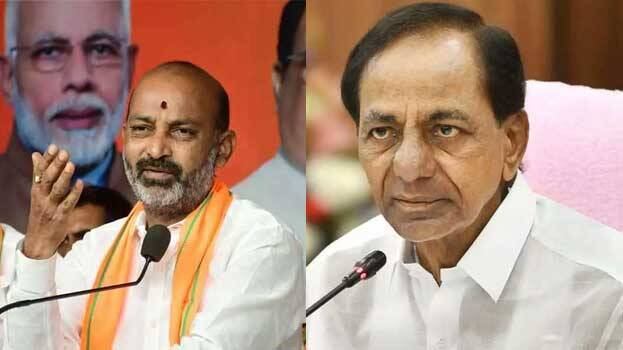 HYDERABAD: Taking a dig at Telangana Chief Minister K Chandrasekhar Rao (KCR), BJP state president Bandi Sanjay said that his political days are numbered and there are several Eknath Shindes in Telangana Rashtra Samithi (TRS). Sanjay's statement came in response to KCR's remarks about the BJP, last day.
Addressing a press conference Sanjay said, "How does Chief Minister KCR knows, what happens in the BJP National Executive Committee meeting. You are a state chief minister who is saying that the BJP doesn't have any strategy. If the BJP doesn't have any strategy then how can it be in power in 18 states. The language the chief minister is using is very shameful."
The BJP state president was responding to KCR's statement that the country needs a double-engine government led by a non-BJP alliance. Amid the press conference, KCR had also expressed gratitude towards former Prime Minister Indira Gandhi. "Indira Gandhi was bold enough to declare emergency in the 1970s, whereas there is an undeclared emergency in the country under Modi's rule", he said.
Bandi Sanjay also responded to KCR's remarks about Maharashtra's new Chief Minister Eknath Shinde. "You are speaking about Eknath Shinde, first, take a look at your own party. I think there are many Eknath Shindes in TRS. That might also be the reason behind him (KCR) mentioning Eknath Shinde several times. He fears that leaders like Eknath Shinde are growing in his own party. Anyone can become Eknath Shinde in his party, it might be his son KTR, daughter or nephew?", Sanjay said.