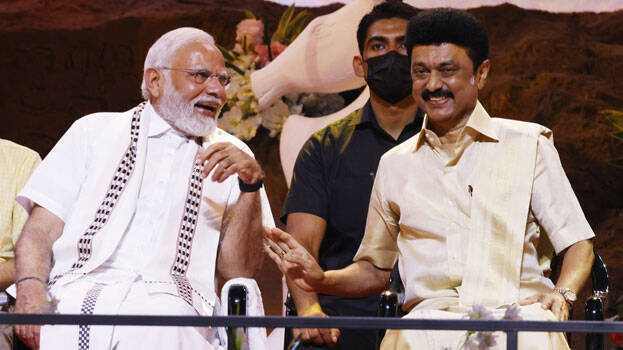 CHENNAI: World Chess Olympiad kicked off in Chennai. Prime Minister Narendra Modi inaugurated the grand function held at the Jawaharlal Nehru Indoor Stadium in Mahabalipuram.

Tamil Nadu Chief Minister M K Stalin received the torch from Grand Master Viswanathan Anand, who completed his tour of strategic areas of the country. Prime Minister Narendra Modi and the Grand Masters of India lit the lamp of the function.
Modi said the arrangements for the mega event were completed in a short span of time. "People who came to Chennai to participate in the tournament are treated like gods according to Indian tradition. We will help bring out the best in you'- the Prime Minister said while addressing the contestants.

Chief Minister M K Stalin said that he was particularly interested in organizing the World Chess Olympiad in Tamil Nadu. 'After cancelling the venue scheduled in Russia, I directed my officials to grab the opportunity if comes to India. The preparations for it started in March. Normally, it requires at least 18 months to prepare for such an international game. However, we formed about 18 committees and managed to organize the event in just four months,' said Stalin.
Superstar Rajinikanth and others attended the inaugural function. The function was replete with A R Rahman's music and South Indian dance moves. The stage at the Nehru Stadium was filled with artistic performances full of Tamil-Dravidian culture.

The matches will begin this evening at the Four Points by Sheraton Mahabalipuram Resort and Convention Center. 189 men's teams and 162 women's teams from 187 national federations will compete. A team consists of five players including one reserve player. As hosts, India will field three men's and women's teams each. Two Malayalam players-- S L Narayanan and Nihal Sarin are competing for India in two different teams. The Swiss system consists of 11 rounds of competition in both the open category and the women's category.
In each round, four players from one team will play against four players from the opposing team. One point for a win and half a point each for a tie. The match points are fixed by adding up the points scored by all the four players. The team with the most match points after 11 matches is the winner. Tiebreaker if more than one team gets the same point. In every round each team will face the teams with the same number of points as they have earned. There is no rematch against the team once faced. Each team will compete against 11 different teams of roughly equal strength in the first round.