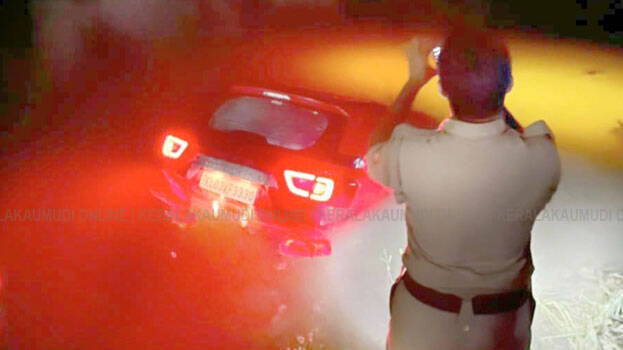 KOTTAYAM: A car, which was driven following directions from Google Map, fell into a stream. The incident took place at around 11 pm at Parechal near Thiruvathukkal, on Thursday. A doctor and her family, natives of Kumbanad, who were inside the car escaped miraculously. Dr Sonia (32), her mother Shoshamma (65), brother Aneesh (21) and Sonia's six-month-old baby were inside the car at the time of the accident.
The family was travelling from Ernakulam to Thiruvalla. They returned from Ernakulam late at night and travelled with the help of Google Map, but got lost from Thiruvathukkal and reached Parechal. The car went from Thiruvathukkal
-Nattakam bypass to Parechal Boat Jetty area. The road was filled with water owing to heavy rains. Following which, the car fell into a stream when it reached the Parechal Boat Jetty area. The locals noticed the passengers screaming and banging on the glass on the sides. Locals namely Sathyan and Vishnu rushed to the spot immediately. They ran along with the flowing car and later jumped into the water.
Although they tried to push the car ashore, the front end got stuck in the mud. With this, the locals tied the car with a nearby electric pole using a rope. Later, the police and fire force arrived at the spot. The baby and others were rescued through the car's door. They were brought to a nearby house and was given first aid. No casualties were reported.