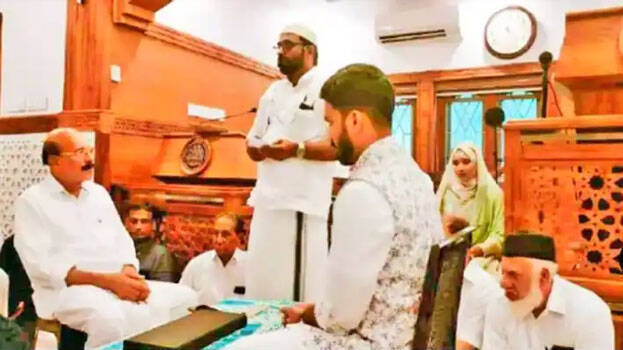 KOZHIKODE: The Kozhikode Parakkadav Mahal Jamaat Committee on Friday stated that it is not acceptable for the bride to be allowed inside the mosque for marriage. The mahal committee's reaction came after the bride was allowed to enter the nikah ceremony held at Parakkadav Juma Masjid on July 30.
'Just before the Nikah, the family asked the general secretary of the mahal for permission, which he allowed at his own risk. The secretary has not received permission from the mahal committee, members or scholars. It was received in connection with another wedding venue outside the mahal', the committee said.
The mahal delegation will directly inform the head of the family that the bride's family has failed in matters that any believer is primarily obligated to observe and this is a serious failure. According to the explanation, the mahal secretary has confessed that he organized the photo session in the mosque without drawing the attention of the officials and without taking permission.
The mahal committee has decided to inform the residents of the mahal by preparing a detailed code of conduct regarding nikah ceremonies to be held in the church and in general regarding the nikah ceremony in the mahal. The mahal committee also expressed its regret that the religious community has faced great hardship due to the carelessness and lack of vigilance in this regard.