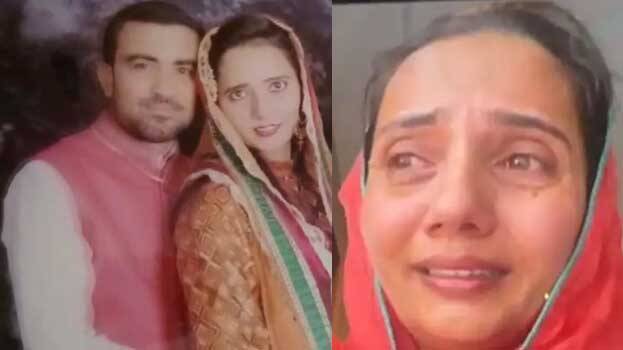 NEW YORK: An Indian woman committed suicide in the US after sending a video message to her father, following eight years' of brutal domestic violence. The dead has been identified as Mandeep Kaur (30), a native of Bijnor in Uttar Pradesh. She was found dead at her residence in Richmond, New York.
Mandeep Kaur and Ranjotveer Singh Sandhu got married in 2015. Sandhu was a truck driver in the US. Mandeep went to US after three years of their marriage. However, Sandhu had started torturing Kaur within days into the wedding, said Kaur's father. Afterwards, he used to beat her regularly for not bearing a son. Mandeep has two kids, a six-year-old and four-year-old girl. Sandhu had asked for Rs 50 lakh as dowry. Mandeep in her video revealed that she was tortured mentally and physically by her in-laws too.
"My husband assaults me repeatedly. He has illicit relations with several women... At first, I thought he would mend his ways, but the atrocities kept increasing. I cannot bear this anymore. I am going to kill myself... Forgive me, daddy", she said in the video.
The visuals of the woman being brutally beaten by her husband was widely circulated on social media. Most of the visuals were from the CCTV footage of the house. The footage shows the husband trying to strangle his wife and the children crying.
"My father had filed a police case against him back in India but he pleaded and asked me to save him… and I did", Mandeep said. She herself had shared the visuals to her relatives.
The young woman's death has led to widespread protests in the US. A campaign 'Justice For Mandeep' has also been trending on social media.
Meantime, AAP member of Rajya Sabha Raghav Chadha expressed grief over the incident and sought timely intervention of the Ministry of External Affairs to ensure justice.
Taking to Twitter, the Indian embassy in the US wrote, "We are deeply saddened by the death of Mandeep Kaur in Queens, New York under the most tragic circumstances. We are in touch with the US authorities at Federal and local level as well as the community. We stand ready to render all assistance."