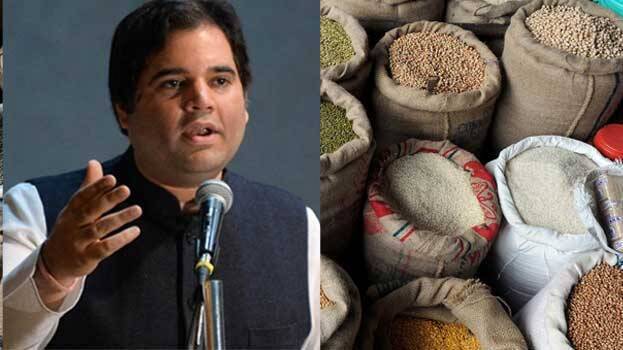 CHANDIGARH: A man has been allegedly denied ration in Haryana after he refused to buy national flag. The video shared by BJP MP Varun Gandhi with the caption it is "shameful" to extract the price of 'Tiranga', which lives is in the heart of every Indian, by snatching the poor's morsel of food is getting a lot of attention. The incident took place in Karnal, Haryana.
A local media in Haryana released the footage of people who came to buy ration being forced to buy the national flag for Rs 20. People including women complained about the incident. Meanwhile, the employee of a shop says that ration was denied to those who did not buy the flag as per the instructions of the authorities.
After the video went viral, the ration shop owner's license was suspended. The Deputy Commissioner said action would be taken against the shop owner for misleading people. He also requested to inform the authorities if such incident is noticed. He clarified that flags are sold in ration shops for the convenience of the people and only if they are interested, they can buy the flag.
"It will be unfortunate if the celebration of the 75th anniversary of Independence becomes a burden on the poor. Ration card holders are being forced to buy Tiranga or denied a share of grains they are entitled to," Varun Gandhi said.
As part of the Azadi Ka Amrit Mahotsav, Prime Minister Narendra Modi had called for hoisting the flag in every house as part of the 'Tricolor Flag in Every Home' (Har Ghar Tiranga) campaign.