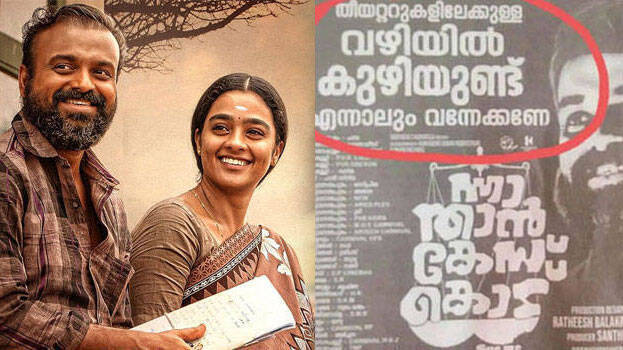 The movie 'Nna Thaan Case Kodu' with Kunchacko Boban in the lead and directed by Ratheesh Balakrishna Poduval has been the subject of major discussion after the release of its poster on Wednesday. The poster that was released on the day of release caused controversy.
The rough translation of caption on the poster is, 'There are potholes on the way to the theatres, but make sure you come.' Many have raised criticism against the caption. Prem Kumar, who express his views in channel discussions, was among the first to come out against the advertisement of the film.
Later, actor Kunchacko Boban came forward with an explanation after the criticism became severe. Kunchako says that the poster of the movie 'Nna Thaan Case Kodu' is not against the government but a social problem is raised. "Enjoyed the poster. The pothole in Tamil Nadu, not Kerala, is the subject of the film.
Despite the criticism, the film is getting good response from the audience. The controversies on the day of release are sure to help the film's marketing. This will help to reach more people. Negative publicity these days often does more good than harm.
The film is coming at a time when road potholes and accidents are controversial. There was also a court ruling that potholes on the roads should be closed.