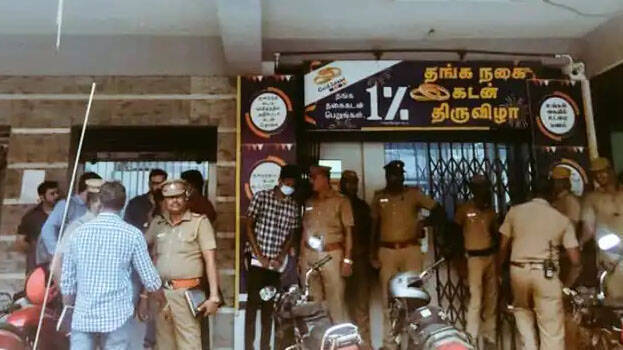 CHENNAI: A bank was robbed in broad daylight at Arumbakkam, Chennai and looted gold and cash. The robbery took place at a branch of Fedbank Financial services limited. Rs 20 crore worth of gold and cash were stolen. The gold given as collateral by the clients was looted.

The incident happened today afternoon. The employees were held hostage at gunpoint. The armed gang barged in after drugging the security guard with soft drinks. They then held the bank employees as hostage and took the keys of the lockers and locked the bank manager and some employees in the toilet. After stealing gold and money from the locker, the gang escaped. The gang also broke the CCTV cameras inside and outside the bank. Locals got suspicious after seeing the unconscious security guard and informed the police.
Anna Nagar Deputy Commissioner reached the spot and started investigation. It has been identified that Murugan, an employee led the robbery, and the police have also released his picture. Police formed six special teams and started the search.