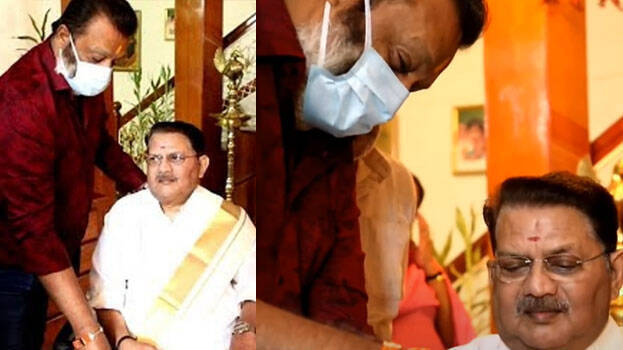 Suresh Gopi and Jagathy Sreekumar are favourite stars of Malayalis. Now Suresh Gopi has paid a visit to Jagathy's house at Thiruvananthapuram and gifted him 'Onakkodi' (new clothes).
Suresh Gopi also launched the book 'Jagathy Enna Abhinaya Vismayam'. The book was written by Ramesh Puthiyamadom. Suresh Gopi explained a few things to Jagathy about the book. He returned after spending some time with Jagathy.
Meanwhile, Suresh Gopi's latest film 'Paapan' continues to run successfully in theatres. The film with Joshi-Suresh Gopi collaboration film had reached the 50-crore club. Suresh Gopi and Gokul Suresh have teamed up for the first time in this film. It is produced by Gokulam Gopalan, David Kachapilli and Rafi Mathira. The satellite and OTT rights of the film have been acquired by Zee 5 Network. The distribution rights of the film were sold for a record amount.