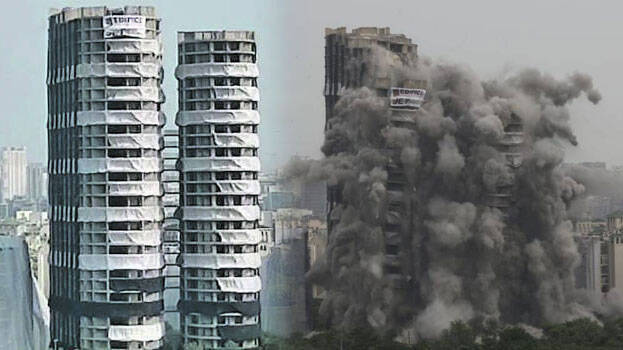 NEW DELHI: The 103-metre high 40-storied twin towers of Supertech Builders were demolished in Noida, bordering Delhi, in seconds through a controlled implosion. The towers were razed at exactly 2:30 Sunday afternoon. This is the first time in the country that such a tall building has been demolished.

The explosion was carried out with extreme caution as there are many buildings adjacent to the twin buildings. Edifice Engineering Company which demolished four flats in Marad said the demolition was successful.

Apex (32 floors and Ceyane (29 floors) twin towers comprising of 40 floors with 915 residential apartments built on 7.5 lakh sq ft area in Sector 93A, Noida have been demolished. These were taller than the Qutab Minar.


The buildings were razed in nine seconds. The Supreme Court had on August 31, 2021 ordered the demolition of the towers for violation of building norms. A bench led by Justices D Y Chandrachud and M R Sha found that they have not followed the building norms.

Chetan Dutta, a native of Hisar in Haryana, pressed the button to detonate the blast. Chetan Dutta has experience in the demolition of thermal power plants and mines. However, this is the first time he is demolishing a residential building. Over 3,700 kg of explosives were used in the implosion that brought down the building.

A four-layer protective shield made of iron mesh and cloth was provided to prevent debris from being thrown after the blast. More than 5,000 residents of Emerald Court and ATS Village near the twin towers were evacuated around 7 am today. 2,700 of their vehicles and around 150 to 200 pets were shifted.

A medical team with six ambulances and medicines was on the spot. Special preparations were made in the nearby hospitals. Only technical workers, including foreigners, who were involved in the demolition mission, were allowed access within 500 meters of the twin towers.

The total cost of the blast is 20 crores. 5 crore will be borne by the builder. The remaining 15 crores will be collected by selling the remains. It is expected that it will take at least three months to remove around 55,000 tons of debris.