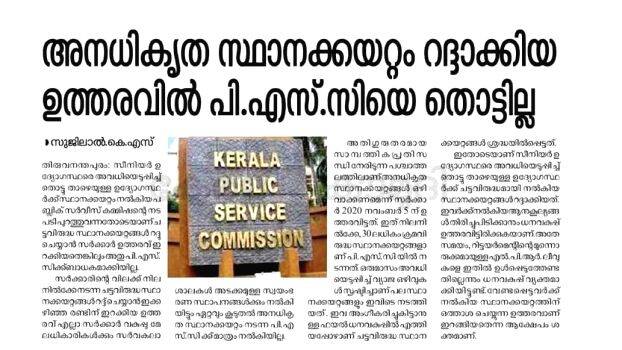 THIRUVANANTHAPURAM: The government will investigate the action of forcing senior officers in the PSC office to take leave and then promoting the officers below them. The move is to end the process of 'autonomy' by the PSC chairman and members appointed by the Left Front regardless of the state's financial condition.
The order issued on September 2 to cancel the illegal promotions that took place despite the ban of the government was given to the heads of all government departments and autonomous institutions including universities but it was not given to the PSC. PSC's argument was that they were not mentioned because they are an autonomous body. With this, the government has asked the PSC for a report before canceling the illegal promotions.
On November 5, 2020, the government ordered that illegal promotions should be avoided as the state is facing severe financial crisis. As it stands, more than 30 irregular promotions have taken place in the PSC office. Many promotions were done here by asking officers to take a month off and then creating fake vacancies. As 26 senior officials have taken mass leave and 30 people have been promoted to those posts.