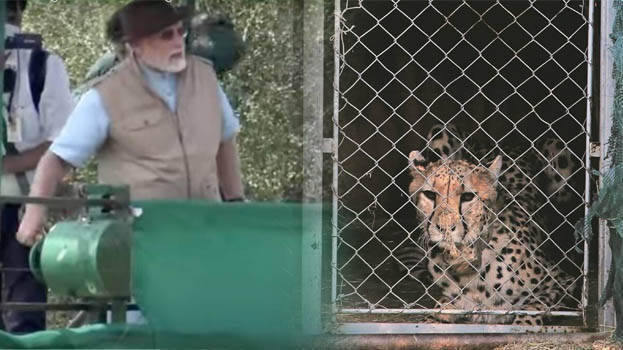 GWALIOR: Eight cheetahs, which were brought from Africa jungles, were released in to the Kuna National Park, Madhya Pradesh by Prime Minister, Narendra Modi, today. The Prime Minister welcomed the fastest animals on land by opening their cage onto a special quarantine area in the national park at 11.30 am.
The cheetahs were brought to India under a dream project to revive the wild life and its diversity. Five females and three male cheetahs were transported to India from Namibia. The age of the males range from 4.5 years to 5.5 years, while the females' age are between 2.5 years and 5.5 years. The cheetahs brought here have the specialty that one female and two males will hunt together.
The cheetahs were selected on the basis of its physical prowess, character, wildness, immunity, and fertility. The animals were brought to India under the long awaited 'Project Cheetah', which began in 2009. They were released into the wild on the occasion of the birthday of Prime Minister, Narendra Modi.
The Cheetahs were transported in the main cabin of a special Boeing B-747 jumbo jet with the face of a tiger painted on the front. This aircraft can fly non-stop for 16 hours. The cheetahs were not fed to keep its stomach empty so as to avoid uneasiness during the long flight.
The project to protect these cheetahs will be given Rs 50.22 crore by the Indian Oil Corporation of which they have already given the first instalment of Rs. 9.95 crore. The project is overlooked by the National Tiger Conservation Authority.