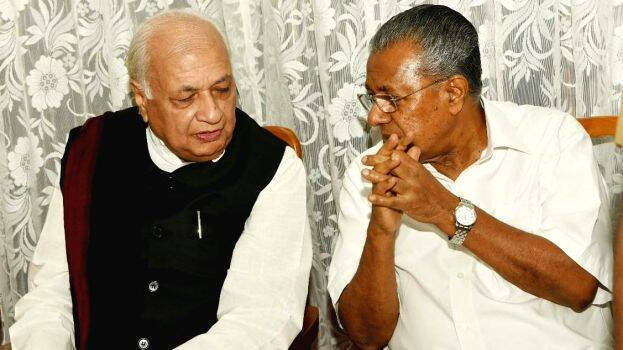 THIRUVANANTHAPURAM: The government is with a hasty move to conciliate the Governor just before his crucial press meet against the chief minister. As part of this, the chief secretary has reached the Raj Bhavan. Though the official explanation is that the chief secretary reached there to invite the governor for an anti-drug campaign, reports say the purpose of the meeting is for conciliation.

Governor Arif Muhammad Khan, who continues an open fight with the government and the chief minister, will convene a press meet at 11.45 am today at the Raj Bhavan. Governors calling a press meet is unusual not only in Kerala but in the country itself. So far, the governor has continued to respond to the media at public events and airports. It is believed that he is moving towards drastic measures by convening the press meet and that is why the government is trying to appease him.

The Governor had stated that three letters and a video against the chief minister would be released today. He had told the media yesterday that three of the documents to be released in today's press conference are letters related to the conduct of the universities and the other is a video.

The chief minister's claim that the government has a role in running the universities are in the first two letters. However, the third letter is an unconditional assurance that the Chancellor will not interfere in the administration of the university. It was the chief minister who is in charge of the home department who directed not to file a case in the case of attack against him in Kannur University. A video related to this will be given to the media today. However, he does not intend to release the information of other benefits sought from him.

Kerala is ruled by people who do not know the ABCD of law. Knows what to do for his safety. It will not be revealed. If becomes the personal staff of ministers for two years, giving pension for life is a robbery of public money. This cannot be accepted. Has taken an oath to serve the people of Kerala. Will say what needs to be said. Will not keep quiet, the governor said.

The governor said that if the President or the Governor is obstructed, the police can voluntarily file a case under the Indian Penal Code. The governor's staff need not complain about that. It is a pity and disgraceful that even the party secretary does not know about this.

Irfan Habeeb, who tried to attack him in Kannur, is a goonda. In Aligarh, Irfan has been involved in many clashes. Trade union was also conducted. The vice-chancellors will not be forced to remove the posters in the University premises. If they do that, they will have to face many difficulties.