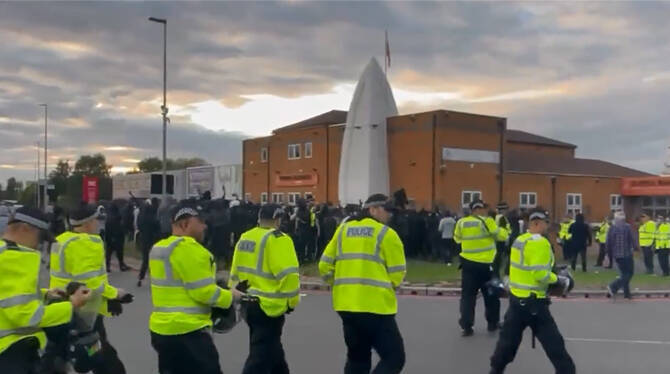 LONDON: After the India-Pak cricket match, around fifty people were arrested in a violent riot that broke out in the eastern English city of Leicester. Post the match in which India defeated Pakistan in the Asia Cup, Hindus and Muslims attacked each other. There were reports that a Hindu temple in the city was vandalized during the violence and the saffron flag hoisted at the place of worship was pulled down.
Protesting the incidents of violence, about 200 people from the Muslim religious group came to protest in front of the temple in the town of Smethwick in West Midlands, England. Videos of this protest are circulating on social media. The video shows around 200 people crowding the Durga Bhawan Hindu Centre on Spon Lane shouting 'Allahu Akbar'. A heavy barrage was put in place to stop the protestors. But some tried to break through the police cordon and climb the walls.
The Indian High Commission in London condemned the violence against the Indian community and demanded protection for Indians. So far, 47 people have been arrested in connection with the violence in Leicester. Yesterday, the leaders of both the religious groups came together and issued a joint statement asking them to keep peace and unity and demanded an immediate end to the violence.