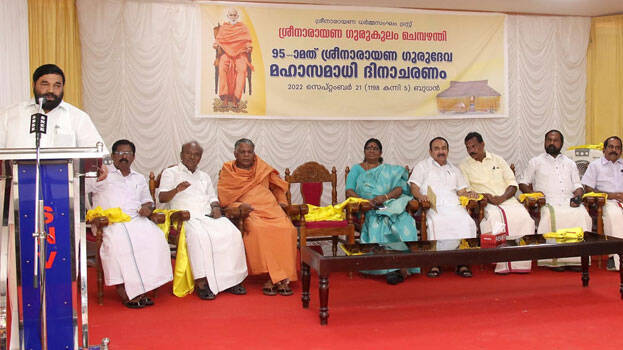 THIRUVANANTHAPURAM: Minister VN Vasavan on Wednesday said that the Aruvippuram Prathishta (consecration of idol) was the beginning of the intellectual silent revolution of Sree Narayana Guru. He was inaugurating the Mahasamadhi Day celebration session held as part of the 95th Sree Narayana Gurudeva Samadhi Day ceremony at Chempazhanthy Sree Narayana Gurukulam.
"Gurudevan put forward the theory of equality. His vision was of high and noble social progress. Sree Narayana Guru's darshans had spirituality that goes beyond religion. Many of Gurudevan's disciples belonged to different religions and castes. The Guru's high thoughts based on eight ideas took the society to a higher level. The relevance of Sree Narayana Guru's darshans is increasing in today's social environment. Gurudevan is a burning chapter in the history of renaissance", Vasavan said.
Minister J Chinchu Rani, who presided over the meeting, said that the visions of Sree Narayana Guru should be studied with more insight. "Gurudevan's ideas become more valuable as one learns them. His ideas are solutions to all the problems facing society today. Guru is the source of energy against amorality. He is also a revolutionary who did strong social intervention. It is amazing that Gurudevan approached human life scientifically. Guru's personal and environmental hygiene views are relevant. Gurudevan's visions should not be interpreted with selfish thinking", Chinchurani said.
Former Varkala MLA Kahar delivered the keynote speech. Sree Narayana Gurukulam Secretary Swami Shubhangananda, Ex-Travancore Devaswom Board member KP Shankaradas, Municipal Councilor Chembazhanthy Udayan, Parassala SNDP Union Secretary Chuzhal Nirmalan, Chembazhanthy Service Cooperative Bank President Aniyur M Prasannakumar, Chembazhanthy Agricultural Improvement Cooperative President Jayakumar, Shaiju Pavithran , Prof M Chandrababu and others participated.
Maha Samadhi ceremony started with Mahaganapati Havan. Special pujas, fasting-prayer yajna, annadanam (food offering) and Maha Samadhi puja were performed.