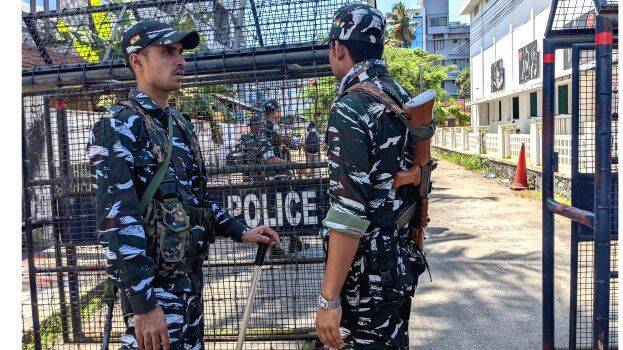 MALAPPURAM: The NIA and ED team have taken 14 people into custody in the raid conducted in houses of leaders and in offices of Popular Front. It includes the national chairman of Popular Front, two national general secretaries, one state president and state secretary. The arrest of some of them was recorded later.
National Chairman OMA Salam was taken into custody from his house in Manjeri, National General Secretary Naseruddin Elamaram from his house in Vazhakad Elamaram, State President CP Muhammad Basheer from Thirunavaya Edakulam and State Secretary Muhammad Ali from his house in Valanchery. Another National General Secretary Anees Ahmed and some others were arrested from the Popular Front office. Many of the leaders including from other states, had come in connection with the program of the organization. Activists protesting against the raid blocked the road at four places.
District Secretary in Pathanamthitta
Pathanamthitta District Secretary Mohammad Sadiq was detained at 3.40 am from his house in Konnamoodu. The raid which continued even after he was taken to Kochi ended at 9.40 am.
Two laptops, two mobile phones, CD, pen drive, bank documents etc. were seized.
Two from Thrissur
In Thrissur, state general secretary PK Usman was taken into custody from his house in Kecheri and state committee member Yahiya Thangal from his house in Perumbilav. A raid was also conducted at Chavakkad district office. The police did lathicharge against the protesters.
District President from Kasargod
The inspection was conducted in the district committee offices of Kannur and Kasaragod. Kasaragod district president T Sulaiman was taken into custody. Sulaiman was taken into custody when he got off at Payyannur by train from Kollam and reached his friend's house next door. The NIA team reached his house in Thrikaripur around 3:30 am, but the house was opened after dawn as there were only women there.
Three people from Kottayam including father and son
Three leaders were taken into custody from Kottayam. District committee member Najmuddin(46), Idukki district secreatry Sainuddin, his son Yaseen(19) were detained.
National committee member and ex-chairman from Kozhikode
National Committee member Prof. P Koya was detained from his house in Karanthur and former chairman E Abubakkar from his house in Koduvalli. Hard disk, leaflets and magazines were seized from the Popular Front state committee office, Unity House, Meenchantha.