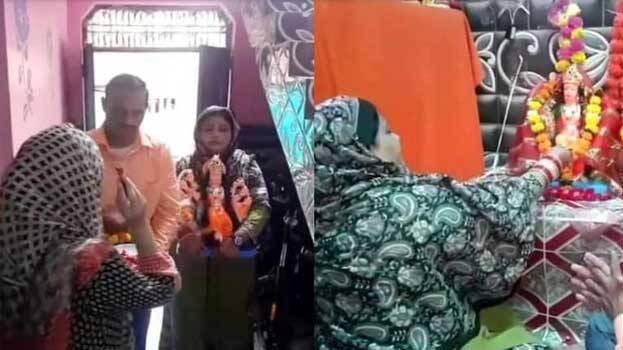 LUCKNOW: A Muslim BJP leader, who installed an idol of Goddess Durga in his home as part of the Navratri festival, has been receiving death threats. Posters calling the leader, Ruby Asif Khan, a 'kafir' are pasted all over the area.
The posters call for Ruby and her family, who worshiped Hindu gods and sang Vande Mataram, to be expelled from the community and burned alive. Two years ago, she was also attacked for organizing a Ram Durbar at her home. The BJP leader recently defied death threats by installing and immersing a Ganesha idol in his house as part of the Ganesha festival. Ruby said she has complained to Chief Minister Yogi Adityanath and the police about the death threats.
BJP leader and former mayor Shakuntala Bharti said that the Constitution of India allows the freedom to worship any God. "Our Constitution allows us to worship any God we want. Also, they chant 'Vande Mataram' as they love their country. They should not be harassed for trying to unite people. The people who are trying to cause trouble for them should be punished.", she said.
The Hindu Mahasabha also came out in support of the BJP leader and his family. Hindu Mahasabha National Secretary Mahamandleshwar Annapurna Bharti said that she is thankful to Ruby for putting her faith in Sanatana Dharma.
Meanwhile, Ruby's husband Asif Khan said his wife wanted to spread the message of Hindu-Muslim unity across the country.
"People do not care about the intent and try to defame us in every way. Four-five days ago, a fake Twitter account was created and abusive language was used against us. We have approached the police, but to no avail," he said.