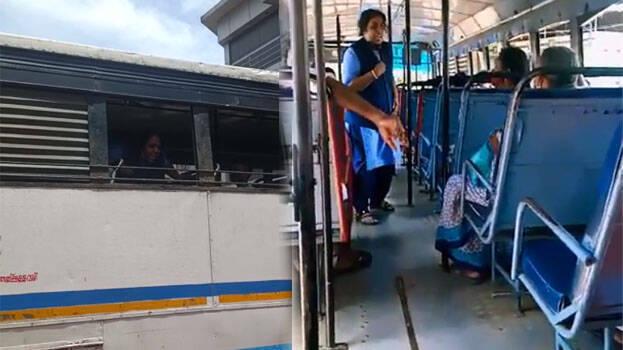 THIRUVANANTHAPURAM: A video has surfaced on social media which shows a KSRTC woman conductor verbally abusing passengers on a parked bus. The incident happened in Chirayinkeezhu in Thiruvananthapuram. Asking them to get off, the conductor of Attingal depot told the female passengers that the seat they are sitting is the one she uses to have food. After the passengers didn't move, she verbally abused them.
When the passengers got off the bus and argued with her, the conductor said they won't be able to do anything against her. The information came to light when one of the passengers recorded the incident and shared it on social media. The incident happened around noon.
This incident comes after KSRTC staff assaulted a father who came to renew his daughter's concession at the Kattakkada KSRTC stand. In connection with the incident, the accused tried to seek anticipatory bail in the District Sessions Court of Thiruvananthapuram, but the court rejected the bail. Though there was a rumour that the accused would appear before the Kattakkada DySP to surrender, no one came. It is said that they did not come to surrender because the court is on holiday for the next few days.
After the court denied bail, the police and the shadow team have intensified their search for the accused. Following the incident, Station Master A Muhammad Shareef of Aryanad Unit, Duty Guard SR Suresh Kumar of Kattakada Depot, Conductor N Anil Kumar and Assistant CP Milan Dorich were suspended. KSRTC CMD Biju Prabhakar has given instructions to complete the probe against these employees within 45 days and take strict action.