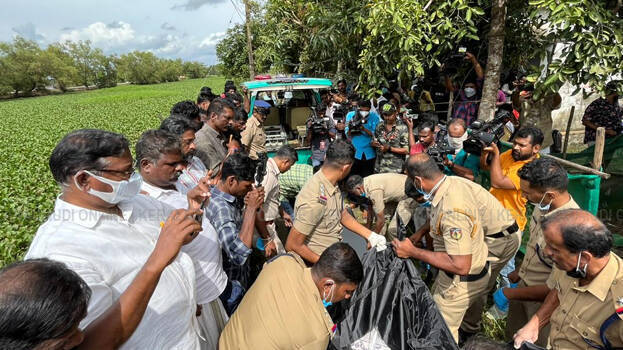 CHAGANASSERY: Adding mystery to the 'Drishyam' style murder of BJP local leader, Bindhumon, the accused, Muthukumar, told police that he did not commit the murder. He said he only helped to bury the victim's body after being threatened by two others, who committed the crime.
According to Muthukumar's statement, Bindhumon was asked to come to his rented house to have alcohol with him and two others, Bibin and Binoy. While having alcohol and food with them, he received a phone call and went out. It was at this time that Bibin and Binoy murdered Bindhumon. When he returned from the call, he saw Bindhumon lying dead.
He added that after they threatened him, he was forced to bury the body in a shed behind the kitchen. For that, he took a spade and iron rod from a neighborhood house. The body was buried in a pit and closed with concrete. The other two then hid Bindhumon's bike in a lake at Vakathanam.
Meanwhile, reports say that the two persons involved in the crime, Bibin and Binoy, natives of Vakathanam, have been arrested in Coimbatore.
The postmortem report of Bindhumon's dead body suggests that he was brutally tortured before being killed. His rib bones are broken and his body has injury marks all over.
However, the real reason behind the gruesome murder is unclear. The police are investigating if it is a contract killing due to some former enmity. The police also did not confirm the rumors that the murder was the result of an issue related to a woman.
Muthukumar was arrested from ITC Colony in Manacheri, Kalavoor, by Alappuzha North Circle Inspector, MK Rajesh. The police were able to trace a call that Muthukumar made to his sister living there. The investigating officers then asked her to call Muthukumar and tell him to reach there. The police arrested the accused when he came to her house.
The accused was handed over to the Chaganassery police and taken to the house where the murder took place to gather evidence.
However, the police have not believed the statement given by Muthukumar because he had sent his children to his sister's house before the incident, suggesting a premeditated murder.
The police say that Bibin and Binoy are also accused in drug related cases.