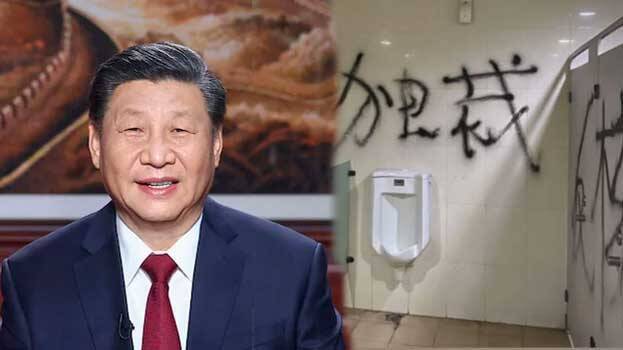 BEIJING: Protests are gaining momentum against the Zero Covid policy of the Chinese government. However, the protesters are finding new and interesting ways to protest against Xi Jinping fearing backlash from the authorities.
On 14 October, huge banners appeared on the Beijing Sitong Bridge demanding that Xi Jinping must be removed. After that strong message, anti-Xi Jinping slogans have now appeared in toilets and on school notice boards.
The protests are gaining strength in Shenzhen, Shanghai, Beijing, Gunagdong, and Hong Kong cities. As most of the public spaces in China have security cameras, the protesters are adopting a novel way of protesting – posting banners in toilets to show their defiance. The Chinese authorities are notorious for jailing those who publically protest against the government.
The protest slogans against Xi Jinping appeared on the walls of the toilet at the China Film Archive institute in Beijing. The pictures of the toilet where slogans are written are being circulated through social media.
Media also reported protests against the Chinese supremo in the US, Japan, South Korea, and Taiwan. The Chinese authorities have blocked protests and slogans against Xi Jinping from being spread on social media. Every anti-government slogan have been removed from Chinese social media.
Reports are coming that the Chinese authorities are even blocking words such as Beijing Protestor, Sitong Bridge, Courage, Hero, Bridge, etc.