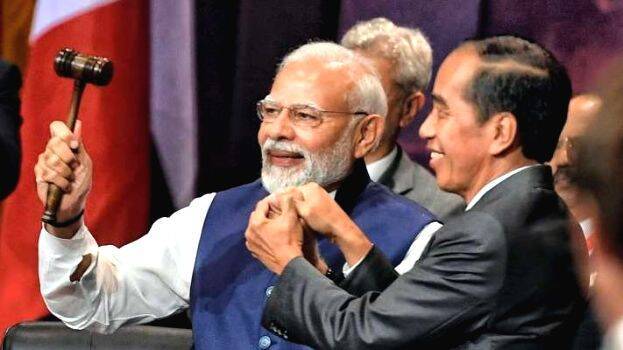 The G20 meeting came to an end with India taking up the reins of the group's presidency. Narendra Modi received the presidency of G20 from the Indonesian President. The main aim of various summits by various countries is to formulate plans to bring prosperity to the world. The aim of the G20 is no different.
G20 was started seventeen years ago, when the world was passing through one of the worst economic down turn. After Covid, the world is now again going through economic depression. In addition, the nuclear threat from the Ukrainian war is also looming high. Though everyone is opposing the war, the indirect benefits are going to the countries that are in the forefront of weapon sale such the US, China, and other strong nations of the G20. The main weapon manufacturers are based in the US and China.
After the start of Ukrainian war, many of the Gulf countries have increased their defense budget many times over. There is no doubt that this will increase the revenue flow to the weapon manufacturing companies. Therefore, there is a suspicion of the US demands that the war must come to a stop. This is where India's decisions and policies become significant. The resolution of the G20 took an excerpt from the statement of Modi made at the SCO summit a few months ago. Narendra Modi had said that this was not the era of war.
Though, the Chinese President Xi Jinping had attended the SCO summit, Modi did not speak with him nor did he give a hand shake. This had made news at that time. The media said that this was due to the unresolved territorial disputes between India and China. However, at Bali during the G20 summit, both the leaders greeted each other and had a handshake showing the world that the ice has begun to melt between the two countries. Moreover, the next G20 meeting will be held in India as India assumes the presidency of the group. In the coming one year, India can steer many crucial decisions of the G20.
It is appreciating that Indonesia was able to symbolically state that the only was to curb fuel prices is to move towards alternatives. During the summit, Indonesia had provided Genesis Electrified G80 electric cars to every head of nation, including Modi, to travel. In addition, all the vehicles that were used for the summit were electric. In total 1400 electric cars were used by officials and even security personnel.
The 18th G20 Summit will be held on 9th and 10th September, 2023 in New Delhi. The slogan for the next summit will be Data for Development. When every person is moving towards a digital world, this slogan acquires high significance.