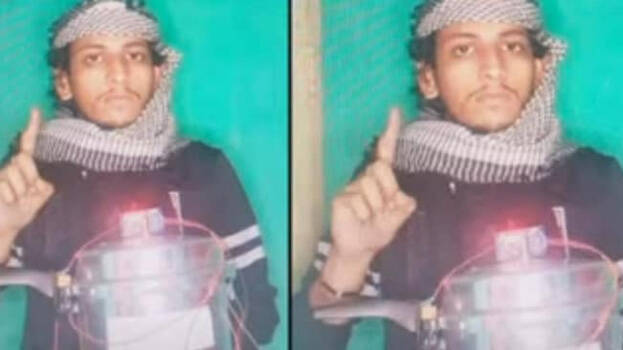 Bengaluru: Mangalore bomb blast accused Shareeq's photos show him posing as ISIS terrorists with a pressure cooker connected with circuit wires in his hand. He was going somewhere in an auto rickshaw to plant the pressure cooker bomb when the explosion happened.
In the explosion that took place on Saturday, Shareeq and the auto rickshaw driver, got seriously injured. Shareeq has sustained 50% burns and is still undergoing medical treatment.
The police said that Shareeq had visited Coimbatore, where a terrorist suicide explosion took place recently. He used fake identity card to stay at Coimbatore. He also planned to place several bombs at different locations. Materials for many such bombs have been recovered from his house.
The intelligence wing got explosive materials, mobile phone, two fake Aadhar cards, pan card, debit card, and an unused SIM.
The explosion took place on Saturday near the Mangalore police station. Chief Minister of Karnataka, Basavaraj Bommai, said that at the first glance itself it is understood that this is an act of terror. He added that in addition to the police, the NIA and the Intelligence Bureau will also investigate the attack.
Some youths having allegiance to ISIS were arrested from Shivamogga. The attack in Mangalore followed after these arrests.