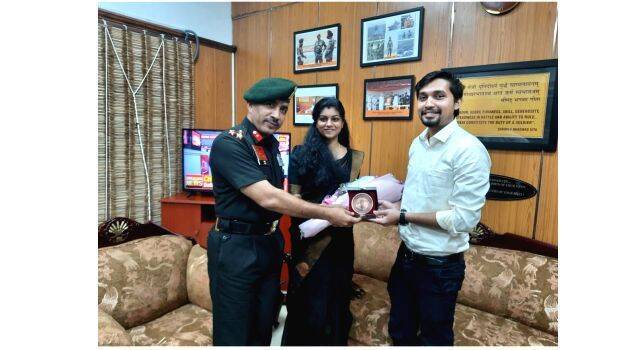 THIRUVANANTHAPURAM: A Malayali couple had recently invited the Indian army to their wedding with a heartwarming note addressing them as 'Dear heroes'. In return, the couple were invited to Pangode Military station and were felicitated by Brigadier Lalit Sharma, station commander. Thiruvananthapuram natives Rahul and Karthika tied the knot on November 10.
Even though they did not attend the ceremony, the station commander thanked the couple for remembering and inviting them, and presented them with a wedding gift. He said that the contribution of every citizen whether in uniform or not is valuable and it is the responsibility of every citizen to contribute to nation building.
The invitation letter sent by the couple to the soldiers along with a touching note went viral on social media. Both are B.Tech graduates. Rahul is an Assistant Bank Manager in Coimbatore and Karthika is an IT Professional in Technopark.
In the handwritten note, the couple wrote,
"We (Rahul and Karthika) are getting married on November 10. We are truly thankful for love, determination, and patriotism towards our country. We owe a deep debt of gratitude to you for keeping us safe. Because of you, we sleep peacefully. Thank you for giving us happy days with our loved ones. Because of you, we are getting married happily. We are extremely delighted to invite you on our special day. We wish your presence and blessings. Thank you for protecting us".