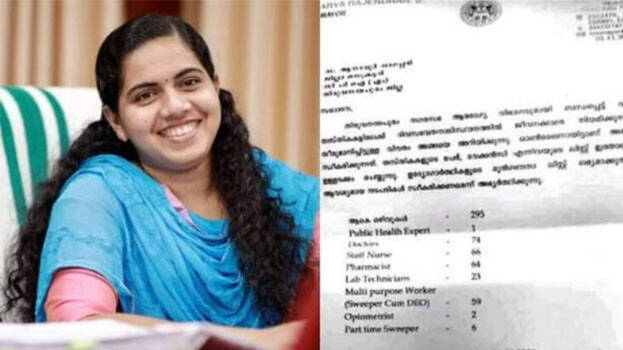 THIRUVANANTHAPURAM: The Crime Branch has taken the statement of Thiruvananthapuram mayor, Arya Rajendran's statement again in the investigation into the letter for appointment controversy. The mayor has reiterated her earlier statement that her letter pad was misused.
Arya Rajendran made it clear that she did not give any order to write the letter. The statement was recorded by Crime Branch Dy.SP, Jaleel Thotathil. The statements of the employees working at the mayor's office were also taken. They said that none of them have written the letter.
The Crime Branch ordered the investigation on the basis of Arya Rajendran's statement that the letter is a fake. The investigation team believes that the letter, which was spread on social media, might have been prepared at the corporation office. Meanwhile, a small tussle erupted during the march undertaken by Mahila Morch towards the Corporation office demanding the mayor's resignation.
Also, Thiruvananthapuram MP, Shashi Tharoor, spoke at the protests organized by the Congress councilors.
Incidentally, the High Court has rejected a plea submitted by deputy mayor demanding that the protests against the mayor must be stopped. The court questioned how it can pass an order demanding the protests to be stopped.