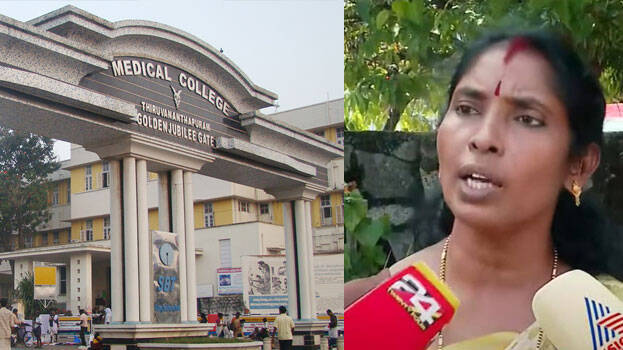 THIRUVANANTHAPURAM: A new twist has occurred in the case of attack against a lady doctor when she informed about the death of a patient. The accused, Senthil Kumar's relatives have come forward saying that the case that he attacked the doctor is fake. They are demanding that the CCTV visuals be examined to prove whether he attacked the doctor.
Senthil Kumar's sister accuse the lady doctor of filing a fake case in order to cover up the doctor's negligence.
She asked if a doctor is attacked in a medical college, won't the security officers question it? However, no one came to question about it. No one came till the body was received for cremation. They first decided to bury the body. However, they cremated the body after the health inspector objected to the burial. They accepted on cremation after being pressurized. They will go to any lengths to get justice.
On Wednesday morning, at the Thiruvananthapuram Medical College Super Specialty block, Neuro Surgery wing senior resident, Mary Francis Kalleri, was attacked. In the complaint, it says that the husband of the deceased patient, Subha, had attacked the lady doctor. In the surprise attack, the doctor received injury to her abdomen and is being treated at the Intensive Care Unit.
After the funeral service of his wife, Senthil Kumar collapsed due to low blood pressure and other physical ailments and is admitted to a hospital. The medical college police informed that the accused will be taken into custody once his health gets better.
PG doctors went on strike for 12 hours demanding the immediate arrest of the accused. They protested from 8 am in the morning to 8 pm. They avoided the OP ward during their strike.
The IMA has also come forward in support of the PG doctors' strike. IMA State President, Dr. Sulfi Nuhu and State Secretary, Joseph Ben, warned that if legal action is not taken the strike will be spread to the whole of Kerala.
KGMCTA also protested demanding the arrest of the accused. The Health Minister has promised strict action in the matter.