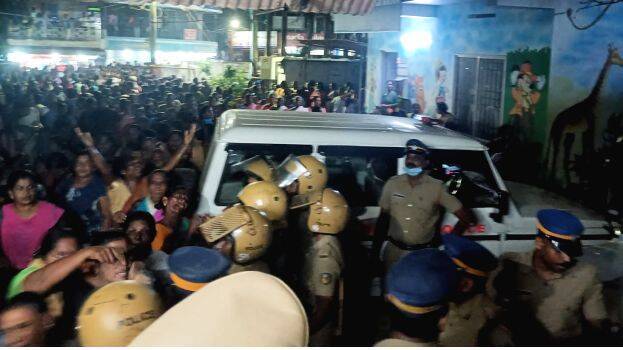 THIRUVANANTHAPURAM: Priests and anti-Vizhinjam Port protest committee leaders were pressurizing the police after the arrest of five persons on Sunday, who indulged in violence and blocking lorries on Saturday.
A senior priest warned the city police Commissioner of grave consequences. A huge police force from different battalions and camps were ready to face the threat. But the government did not give the order to deploy the force.
The government decided not to put more police force on the ground and agitate the protesters further. Meanwhile, the government was trying to have peaceful resolution through talks with the protesters. This was the reason that police deployment was late even after the threat of surrounding the police station. There was intelligence report that protesters were planning for a mass riot. However, there was no intelligence input about attack on the police station.
After the station was attacked the city police Commissioner, G Sparjan Kumar, ordered the deployment of police. He even reached the conflict area. The police restrained from opening fire even after being brutally beaten up by the protesters.
However, there are many in the force who feel angry about the decision to go soft towards the protesters. One reason is the granting of bail for the four persons who came to free Selton from the police station on Sunday.
The police have got visuals of two masked men destroying the CCTVs before attacking the police station.
The police have registered case against 3000 persons including women and children. After checking CCTV visuals, the attackers will be arrested from the next day onwards. Money will be charged from them for destroying public property. More police officers will be deployed to prevent further violence.