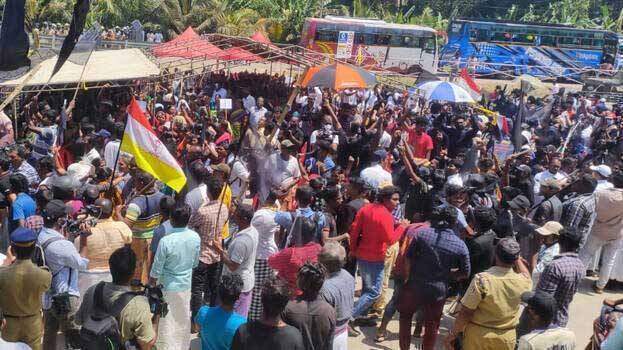 THIRUVANANTHAPURAM: The Vizhinjam strike committee, which has been receiving criticism for the attack on the Vizhinjam police station, has started trying to improve the face of the protest by highlighting the Ockhi rehabilitation along with the Vizhinjam issue. The Latin Archdiocese added heat to the protest by observing betrayal day against the government on Tuesday, the fifth anniversary of the Ockhi tragedy. It is alleged that the state government has not sanctioned any assistance to the Ockhi victims. The protest committee alleged that the government's decision to provide houses, children's education fees and life jackets to those who lost their homes in Ockhi is still remaining as a promise.
At the same time, the ministers are confronting the protesters en masse by raising serious allegations. The ministers reiterated yesterday that there is an agenda behind obstructing the country's development project on account of non-existent things. The ministers also said that the government will not back down from the construction of the port. It is learnt that the Chief Minister is making moves based on the understanding that there is a need to take tough stances to deal with the protesters. The Chief Minister is of the stance that there is no need for further discussion on the demand of the strike committee to stop the project and conduct an environmental study. However, the government has no intention of immediately using force to remove the protesters and bring the construction materials to the site. The government is hoping that the High Court will take strict action against the protesters in the wake of the recent conflict. The chief minister's office is keeping a close eye on each and every development and issuing directives to top police officials. The Latin diocese also suspects that even those supporting the strike may have turned against it following the attack on the police station.

CPM to counter criticism
The CPM is preparing to counter the attacks by the Latin Archdiocese and opposition political organizations by highlighting the anti-port stance taken by the CPM during the Oommen Chandy government. The party's stance is that the UDF and some of those who are protesting today are responsible for the problems in the agreement. The CPM also feels that it need not take into account the statement made by Jose K Mani in favour of the strike committee for the time being. CPM will strongly defend against the allegations made through social media by highlighting old news in the party mouthpiece.