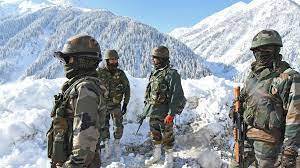 NEW DELHI: India has strongly protested against the violation of the Line of Actual Control by the Chinese Army in Arunachal Pradesh's Tawang sector. Defence Minister Rajnath Singh told Parliament that there will be no compromise on the integrity of the country and that India has conveyed its protest to China at the diplomatic level.
Rajnath Singh made the statement in Parliament after holding discussions with Prime Minister Narendra Modi, External Affairs Minister S Jaishankar, army chiefs and diplomats on China's aggression.
After chasing away 300 Chinese soldiers, the Air Force became fully equipped by deploying fighter jets, including Rafale. While Sukhoi-30 jets were deployed at Tezpur and Chabua in Assam, Rafale jets were deployed at Hasimara in West Bengal. The S-400 air defence system procured from Russia has been made operational in the Assam sector. The S-400 is more than adequate to meet any aerial challenge.
The authorities have issued instructions to take strict action if drones or aircraft violate the airspace. Indian Sukhoi jets intercepted the Chinese drones before the encounter in Tawang.
Six soldiers injured in the encounter were admitted to the military hospital in Guwahati. It is reported that 22 Chinese soldiers were injured. At the same time, China alleged that Indian forces were the ones who violated the border.
Indian troops forced Chinese soldiers to go back to their post: Rajnath Singh
Minister Rajnath Singh told both houses of the Parliament that the Indian Army stopped the troops of the Chinese Army along the Line of Actual Control in Tawang sector in Arunachal Pradesh. He said that the Indian soldiers were not seriously injured in the clash in Tawang and they intervened in time.
"On December 9 in Yangtse area of Tawang sector, PLA troops encroached upon and attempted to change status quo. This attempt was tackled by our troops in a determined manner. Our troops bravely stopped PLA from encroaching upon our territory and forced them to go back to their post," he told Parliament.
"In this face-off, few soldiers on both sides suffered injuries. I'd like to stress that none of our soldiers died or suffered any serious injury. Due to the timely intervention of Indian military commanders, PLA soldiers have retreated to their own locations," he said.
Matter that provoked China
China was provoked by the joint military exercise (Yuddh Abhyas) conducted by India and the United States in Auli, Uttarakhand. The military exercise took place a hundred kilometres close to the Chinese border. China was also angered by the joint operation of Indian and US troops in Russian-made Mi-17 V5 helicopters.