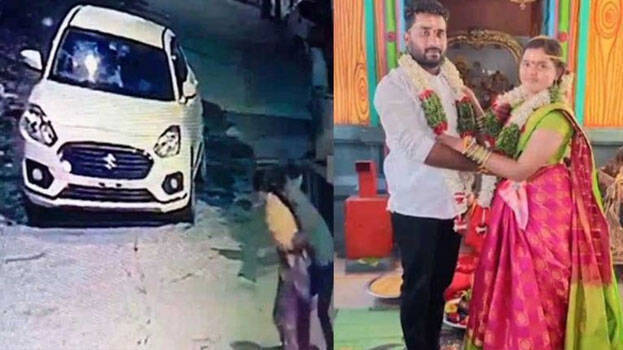 HYDERABAD: In what appeared to be a shocking incident, a girl who was walking to the temple with her father in the morning was abducted by an unknown gang. The incident took place at Moodappally in Rajanna Sircilla, Telangana. The gang kidnapped a girl named Shalini (18). After the footage came out, the police launched a massive search, leading to dramatic events. A video of the girl revealing that she was not abducted and that she was married was later released.
As per the CCTV footage, two masked men jumped out of the car and pushed Shalini's father away and forced her into the car. The police team started the investigation focusing on the footage of the incident. The investigation was conducted in six groups. The district border was closed and extensive search was conducted. The police identified one of the abductors as Johny (24), a friend of the girl. It was also understood that the other person is a native of the girl.
The police said that Shalini was abducted by the same friend a few months ago. The police registered a case against him as the girl was not of legal age at that time. The police said that he kidnapped the girl again when he came to know that the girl's marriage was fixed. Hours after the incident, Shalini and Johny released the video.
In the video, Shalini says that she was not kidnapped and instead got married to her boyfriend Johny as she wanted. 'We have been in love for four years. Johny came to the temple in the morning to pick me up with my consent. But I didn't recognize him at first because he was wearing a mask. This is why I had to be forced into the car. Now we are married.'- said Shalini.