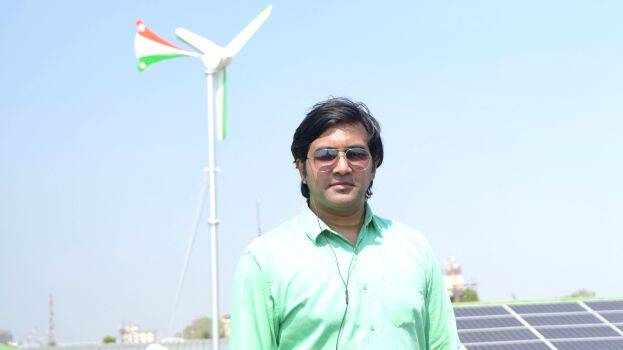 KOCHI: Thiruvananthapuram native, Arun George, placed a mini wind turbine at the top of a building in the premise of Vettucaud Church and said that this is best source for electricity for houses. Arun George's idea of mini wind turbine, which he called 'Avatar' was taken up by Gujarat.
The mini wind turbine is in demand in Gujarat. The Indian Army and Navy also approached for the turbine. There is demand from foreign countries also.
In Kerala, barring December and January, there is wind all the other months. Arun George established his company in the hope that in houses, electricity can be produced more efficiently by mini wind turbine than by solar power. As there was no government subsidy, people in Kerala did not give it value.
It was in 2015 that he along with his brother Anoop George entered into this business. They are the sons of former MLA of Kovalam George Mercier. The brothers were given an opportunity by Vettucaud Church after the Pope's call to use unconventional power sources. After this, there was no need to look back. They have set up their own plant in Gujarat.
The Kochi Naval base has 'Avatar'. A unit was fixed at Thevera Sacred Heart College yesterday. The turbine will rotate and produce electricity even if the wind is only as strong as to blow off a lighted candle. A normal household will use daily 3 units of electricity. The mini wind turbine can on the other hand produce 5 units of electricity.
The hands of the turbine is 10 to 16 feet. A one-kilowatt turbine will cost Rs.80,000 and for the other related things, the cost is Rs.1 lakh. The benefit of wind turbine over solar is that the former can be produce electricity 24 hours while solar can produce electricity effectively for four hours. Moreover, in rainy season the electricity produced by solar will be down but the wind turbine will produce more electricity during rainy season.