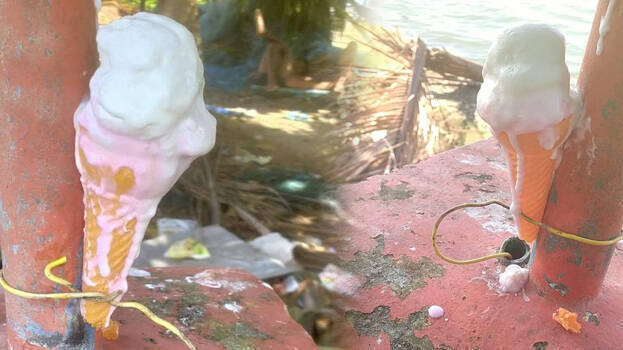 ALAPPUZHA: Locals of Kayamkulam and Azheekkal areas here were shocked with the results of an experiment done with a 'cone ice cream' bought from a person who sells it on a bicycle. The ice cream was tied to an iron pole in an open place, but surprisingly it did not melt completely even after two days.
Such traders frequent the coastal area. Many, including children, buy ice cream from them. Based on reports that fake ice creams were caught in many places in Kerala recently, some of the customers decided to do the experiment by keeping it out in the open air for hours. Dileep, a native of Ochira, said that even on the second day of the experiment, some portion of the ice cream remained unmelted.
As it is clear that such ice creams are not made with natural ingredients, people are worried. People who buy ice cream, especially cones, usually eat it right away. Such scams remain unnoticed mainly due to that.
Health department is unaware
Products of registered companies are released after quality control. But the health department does not conduct strict checks on the locally produced ice creams by the small traders.
A fake ice cream manufacturing unit was found in Malappuram district recently. The unit, run by migrant workers, was operating in unsanitary conditions without health cards or licenses. Locals say that similar inspections should be conducted at local manufacturing units in Alappuzha.