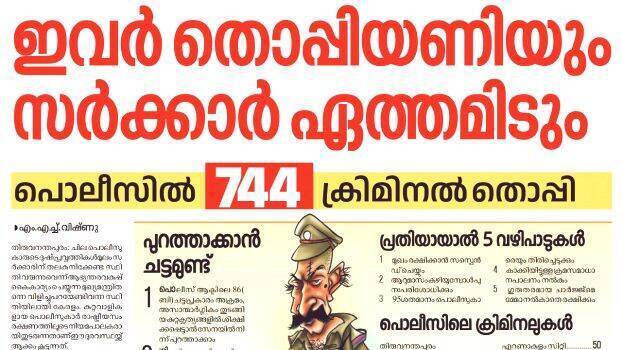 THIRUVANANTHAPURAM: Secretive internal vigilance cells have been formed in the police department to detect and take action against criminals in the police department. These vigilance cells consist of IGs, SPs and DySPs at the state and district levels under the supervision of the Additional DGP at the Police Headquarters. The details of the members of these cells will be kept confidential. ADGP, IG, DIGs, 3 SPs and 4 DySPs are in the state-level cell.
The task of these cells is to find and report to the police headquarters the misconduct of police officers of all ranks, their relationship with sand mafias, criminals and gangsters, poor treatment of women and children, relationship with drug gangs, money collection and usury transactions. The committee consisting of the Police Chief and Additional DGPs will scrutinize this report and recommend for investigation and action. The culprits will be immediately dismissed from the force. The cell also has the power to secretly monitor those with criminal connections.
Kerala Kaumudi had published a series and other reports about the criminals in the police force. This was followed by urgent action as per the instructions of the Chief Minister. Police headquarters have already received reports from two districts regarding the criminal activities of some policemen. A departmental inquiry will be conducted based on this report and action will be taken against the culprits. The authorities have decided to include a module on 'Behavioural Change' in the police training syllabus to prevent unruly police conduct. An internal vigilance cell was formed in 2015 to check corruption in the police when TP Senkumar was the DGP. However, it later became defunct.
Political influence
Vigilance cells have been formed in such a way that there is no loophole for the criminals in the police to use political influence to escape. Intelligence chief TK Vinod Kumar had earlier told a meeting of top police officials that the police officers who continue unholy relations with gangsters, mafias and drug gangs are remaining safe.