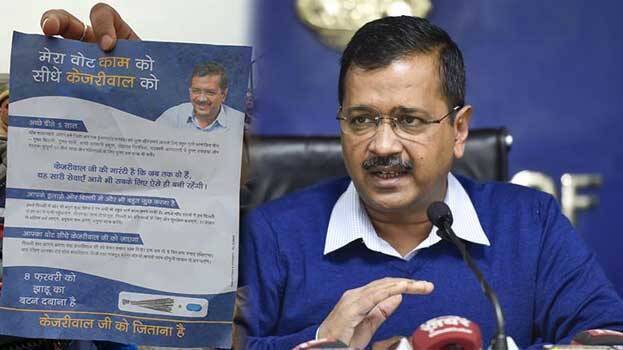 NEW DELHI: The Delhi government has sent a notice to recover Rs 163.62 crore from the Aam Aadmi Party for allegedly running political advertisements in the guise of government advertisements. The notice was issued by the Directorate of Information and Publicity, Government of Delhi. The notice states that the money should be paid within ten days.
"A final opportunity is hereby given to reimburse the amount of ₹ 163,61,88,265/- (Rs One hundred and sixty three crores, sixty one lakh, eighty eight thousand, two hundred and sixty five only) by depositing the said amount in the account details given below within 10 days of issuing of this notice, failing which further necessary action as per law will be taken in this matter," the notice read.
As of March 31, 2017, the amount spent on advertisements is Rs.99,31,10,53. The remaining Rs.64,30,78,212 is interest on the amount spent on advertising.
The notice also states that if the AAP convener does not repay the money within the stipulated time, action will be taken, including confiscation of the party's properties as per the previous order of the Delhi Lt Governor. Meanwhile, neither the Delhi government nor the Aam Aadmi Party has yet responded to the notice.
The Directorate of Information and Publicity has sent the notice a month after Delhi Lt. Governor VK Saxena initiated proceedings against AAP for allegedly running party advertisements in the guise of government advertisements. On December 20, Lt. Governor had ordered to recover Rs 97 crore from AAP in connection with advertisement. But AAP responded then that Lt. Governor has no authority to issue such an order.
AAP chief spokesperson Saurabh Bhardwaj then termed the Lt. Governor's order as a 'new love letter'.
"The BJP is flustered that we have become a national party and wrested power from it in the MCD. LG sahab is doing everything in accordance with the BJP's directions and that is troubling the people of Delhi. The more worried Delhi's people are, the happier the BJP gets," he said.