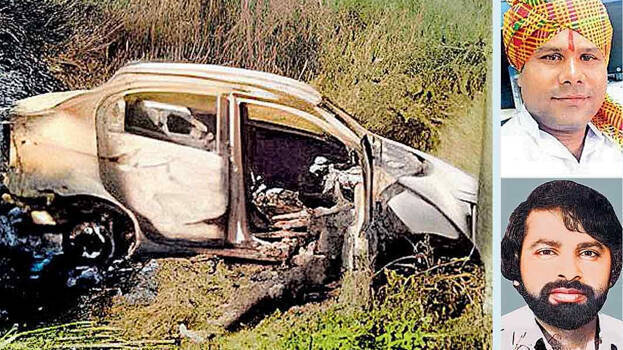 HYDERABAD: The case of Sukumara Kurup remains an unanswered problem in Kerala's investigative history. However, within a few days, police proved their ability by arresting assistant section officer Dharmendra Naik (48) of Telangana Secretariat, who killed and burnt a poor man to extort the insurance amount of Rs 6 crore. The evidence of CCTV footages and mobile phone calls helped the police to crack the case. Naik was arrested along with his wife Neela, son-in-law Srinivas and sister Sunanda in the brutal murder which the Telugu media described as a 'Kurup model murder'.

A milk man informed the police that a car had fallen from the road and fell into a nearby ditch at Venkatapur in Medak on January 9 morning. When they reached and checked, a person on the driver's seat was found charred to death. With that, the police tried to find out whose car it was. During the inspection, Naik's identity cards and clothes were found near the car without any damage. It was confirmed that it was Naik who died. It is also clear that this is a new car that he bought recently. The relatives received the body and cremated it.
The police initially suspected whether the car burnt due to an accident. The discovery of a bottle with traces of petrol near the burnt car and the fact that his clothes and identity cards found unburnt raised suspicions. However, the police did not show anything. Meanwhile, CCTV footage of a person resembling Naik was also obtained. With this, the doubt grew stronger. His relatives and their phone calls were secretly monitored. Also came to know that Naik had taken a new insurance of 6 crores. With this, the police understood everything.

Two days after the death, Naik's wife received a phone call asking her to get his death certificate and give it to the insurance company as soon as possible. Although it was not clear whose call it was, the police decided to track the phone call. The police team went after the phone call and reached Pune. Naik was behind the call. Caught him immediately and when questioned him, he revealed everything.
Naik committed the fraud after he lost lakhs through online business. He took an insurance of Rs 6 crores. The victim could not be found. Meanwhile, Anjaiya was found as a victim. Anjaya's drinking on the day Naik decided to commit the murder backfired again. The insurance amount will not be received if the post mortem showed the presence of alcohol in the body. On further investigation, Naik found a person named Babu resembling him at Nisabamad railway station. They forced him to enter the car and killed him, then doused him with petrol and set him on fire. The son-in-law helped him in everything.