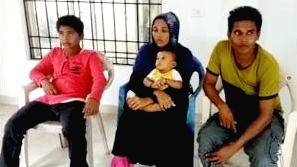 THIRUVANANTHAPURAM: Police have taken Rohingyan refugees from Myanmar into custody in Thiruvananthapuram.
Vizhinjam police on Tuesday evening detained the five-member family and questioned them. They said they had reached Thiruvananthapuram by train from Hyderabad.
From the railway station, they came by road to Vizhinjam.
Much earlier, the Intelligence agencies had passed on the secret information about the possibility of Rohingyan refugees sneaking into Kerala.
After this, the Railway protection force tightened the vigilance at the Railway station. They are combing all trains coming here from North East states. They also are questioning passengers with suspicious looks.
The police have arranged special security in Aluva and Perumbavur area. They are as well collecting information about Rohingyans from the places in Kerala where they have come to work.