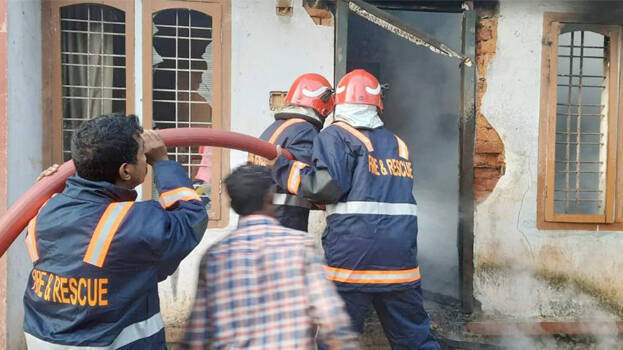 ADIMALY: A youth set his own house on fire after going live on the social media. The youth set fire on the house of Daniel of 10th mile Mukku Puthenpurackal. Daniel's wife said their son Delmon set the house on fire after pouring diesel kept in the house. He went live on Monday morning showing the house on fire. When the locals came rushing seeing the fire, Delmon fled from the place. Daniel immediately doused the flames by pouring water.
The fire was completely doused by the fire force from Adimaly. The house has been partially damaged. Delmon also poured diesel at the house of Ratheesh, his neighbour. As Ratheesh knew about it, a major tragedy was averted. Delmon's mother said that he always behaves like this.
However, there was nothing provocative enough for him to set the house on fire in the morning. Police said that his relatives had informed of him having some mental issues. Adimali sub inspector P D Judy reached the spot but the youth could not be traced. The police said as the relatives have no complaint, a case has not been registered. Adimali fire officer Praghosh, other officers Abhishek, James, Jillson, Rahul Raj, Saneesh and Ragesh led the rescue operations.